Project Progress
First pilot "Nepal-stoves" were built in the communities around  Ol Pejeta in 2013.  The compact stove with two cooking plates proved suitable for different ethnic communities.
We closed 2013 with the first training for ten local stove-makers in Ol Pejeta. Our most experienced stove-maker and trainer from Nepal, Bel Bahadur Tamang, lead the training. After two weeks of theoretical and practical training the the graduates were ready to start work in their home communities.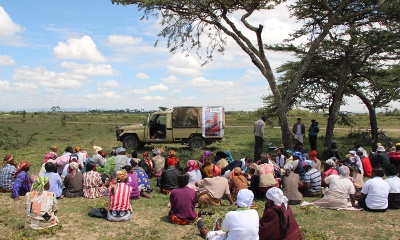 Village Meeting
Village meetings were held  with the newly-qualified stove-makers. In these meetings the advantages of the new stoves and the offer of the "Ofenmacher" were explained and discussed.